Summer calendar at Cala Rossa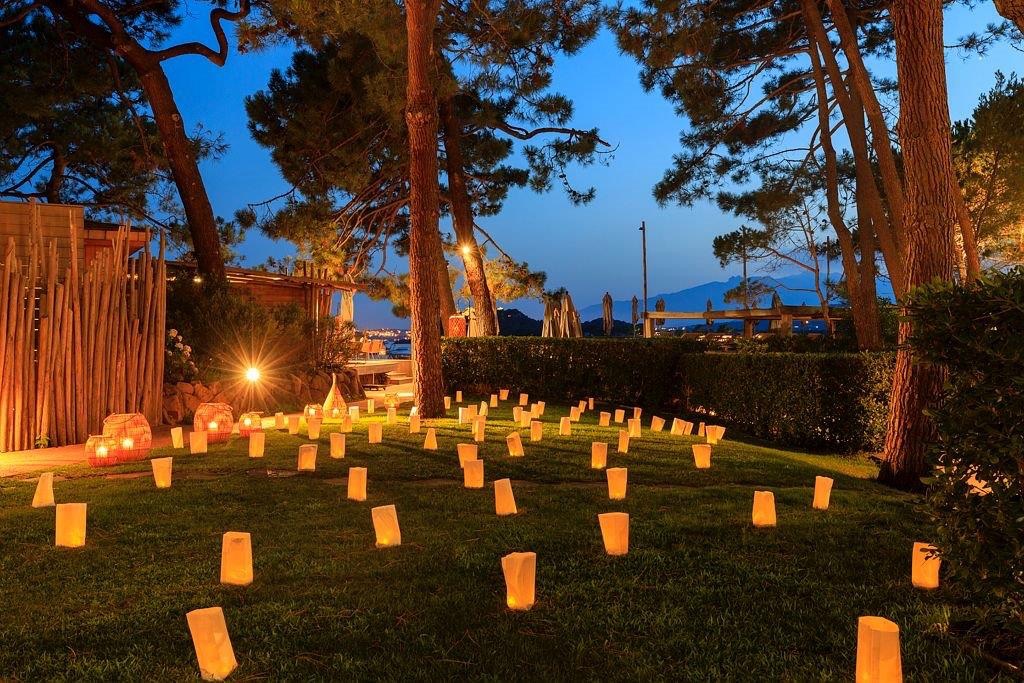 Every Tuesday, Pascal Casanova and Michel Maestrati, Cala Rossa's long-standing performers, entertain in the gardens during the season and by the fireside in autumn. Over the evening they share their repertoire of Corsican songs old and new.
Every Friday – Avretu, a group of three Corsican musicians and singers who know the local repertoire and international classics extremely well.
Women and the wine, Tuesday 7 July
Facing the difficult challenge of developing their heritage, initially by carrying on the work started by their fathers, they have turned their respective estates into professional concerns and now count among the island's elite winegrowers. The wines of these courageous and dedicated women have become a fixture at the finest restaurants in Corsica and beyond, featuring on prestigious wine menus the world over.
Tuesday 7 July, from 7.45 p.m. on the beach bar deck.
Marina Bronzini de Caraffa, from Domaine Marengo, invites you to taste her finest wines.
A 2-hectare plot of wines in an exceptional location overlooking the Golo river, just 5 km from the sea, produces remarkable red and white wines: APPOLONIA and EMILIU.
A second parcel covering 1.2 hectares grows organic small grain Muscat grapes at the foot of Sant'Angelo mountain, for Muscat Cap Corse 655.
This unfortified sweet wine comes in a numbered bottle. It is served at the most prestigious French restaurants and has also found success in New York.
Our chef Pascal Cayeux matches these tastings with delicious sweet and savoury sharing platters, while our regular Corsican musicians, Pascal and Michel, entertain you throughout the evening.
55€ per person.
By reservation
Our fabulous buffets on 13 July and 14 August!
These buffets, which have become an institution over time, are a wonderful opportunity for us to bring together all the guests staying with us and former customers who now live nearby but still loyally attend our gourmet summer events.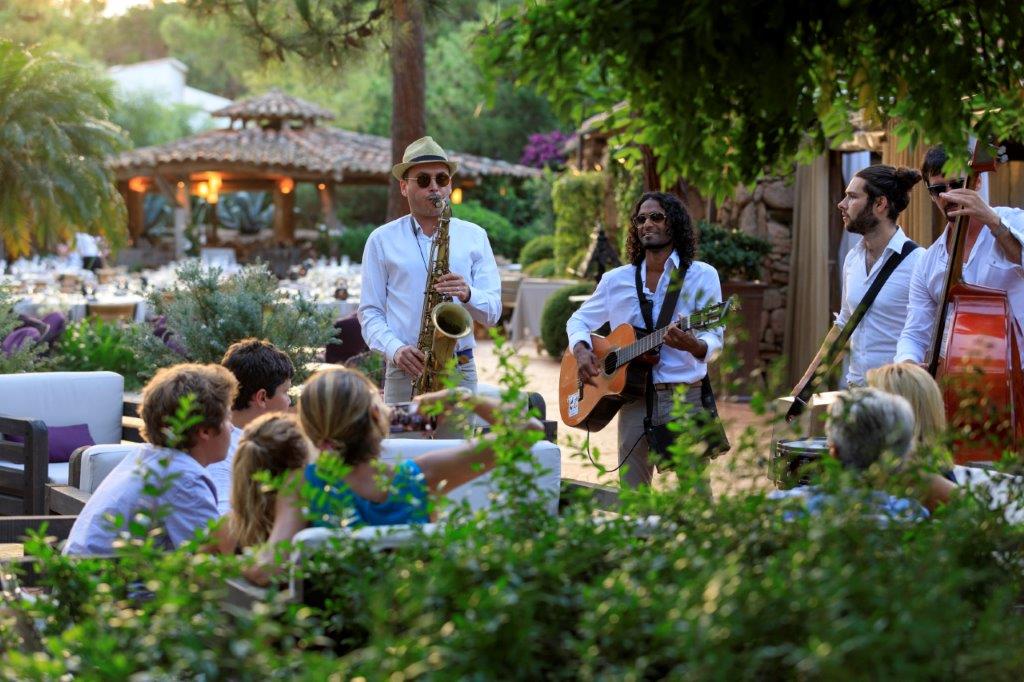 A festive ambience is provided by Johnny and the Walkers, a diverse band of musicians providing an entirely unplugged show with four harmonies for vocals, double bass, saxophone and guitar. Their lively repertoire ranges from the great classics of the 1950s to hits of today. They alternate with DJ Papillon Rod spinning the decks.
This is an excellent opportunity to celebrate our chef's creativity and pay tribute to the passion of our local small-scale farmers.
Evening of 13 July: €180 per adult and €105 per child (under the age of 12)
Evening of 14 August:   €190 per adult and €110 per child (under the age of 12)
By reservation only.
Formal dress required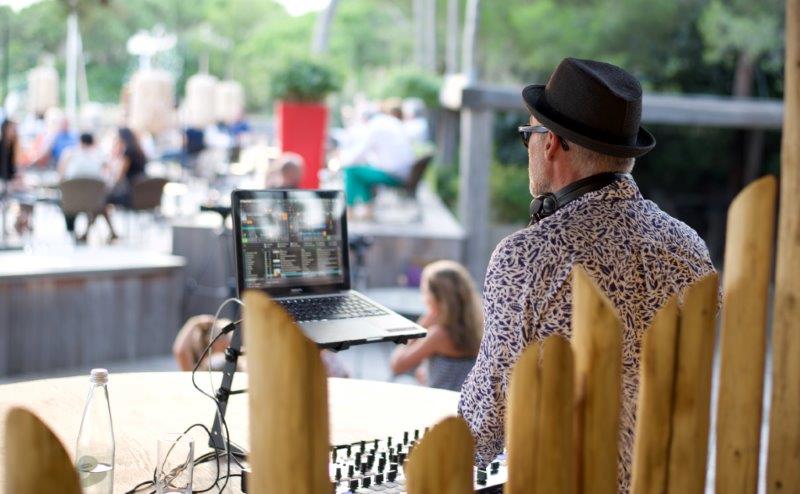 Our bar and kitchen teams combine their talents for an aperitif at the Beach terrace.
A special moment at sunset to enjoy delicious house cocktails and savour succulent "piattini", made in front of you, in our delightful summer kitchen.
Those who wish to do so have the option of extending their evening to enjoy the balmy night to the full.
Don't forget to book your table !
Moonlit garden party, Monday, 10 August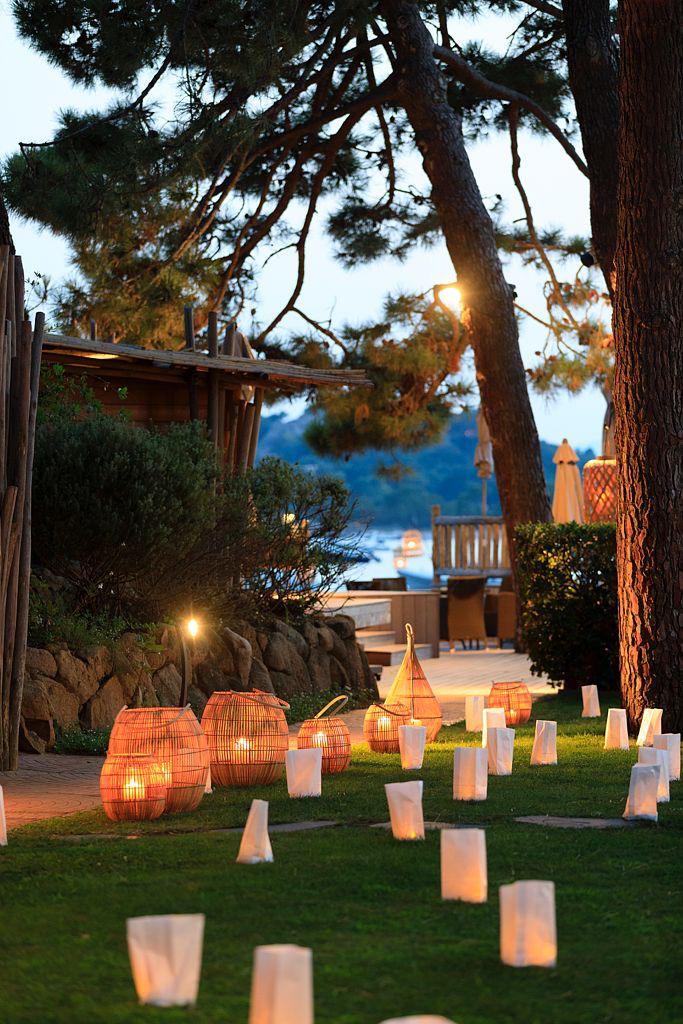 Second edition: the kitchen gives a performance in the gardens and on the beach!
Cooking workshops to enhance the finest local produce are scattered through the park.
A giant bouillabaisse, plancha-seared Bonifacio spiny lobster, tender meat skewers, vegetables in every shape and form from the kitchen garden, a short detour via Italy with melt-in-the-mouth delicacies, and a superb cheese section for enthusiasts.
Gourmands are treated to an atavistic pleasure with a home-made ice cream counter that will be sure to take them back to childhood!
This event also offers an ideal opportunity to chat to our cooks and to glean advice and tips to perfect your cooking techniques at home!
Celebrated violinist Irène Fischer sets this superb summer evening to music, taking you on a journey through time and space with a musical adventure conjured up by the exhilarating notes of her violin. She will perform the most vibrant pieces from her repertoire of Gypsy music, for a magical evening under the starry skies.
By reservation only – €190 per adult and €112 child (under the age of 12)
Formal dress required